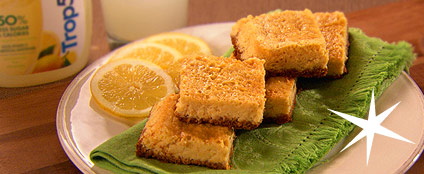 PER SERVING (1 square): 120 calories, 2.5g fat, 203mg sodium, 25.5g carbs, 5.5g fiber, 7.5g sugars, 4g protein
A serving of the original recipe has 240 calories and 10g fat! I cut the calories in half by using high-fiber bran cereal, fat-free liquid egg substitute, no-calorie sweetener & light whipped butter!
Crust

1 1/2 cups high-fiber bran cereal twigs
1/4 cup light whipped butter or light buttery spread
2 1/2 tbsp. granulated no-calorie sweetener

Filling

1 cup fat-free liquid egg substitute
1 2/3 cups granulated no-calorie sweetener
1/3 cup granulated white sugar
6 tbsp. whole-wheat flour
6 tbsp. freshly squeezed lemon juice (2 - 3 lemons' worth)
2 tbsp. lemon zest
2 tsp. baking powder
Preheat oven to 350 degrees.
To make the crust, in a blender or food processor, grind cereal to a breadcrumb-like consistency. Transfer to a medium bowl and set aside.
In a small microwave-safe bowl, combine butter with 2 tbsp. water. Microwave until just melted. Transfer to the medium bowl. Add sweetener and mix thoroughly.
Spray an 8" X 8" baking pan with nonstick spray. Evenly distribute crust mixture, using your hands or a flat utensil to firmly press and form the crust. Bake in the oven for 5 minutes. Set aside.
In a large bowl, combine all filling ingredients and mix well. Pour mixture over the crust in the pan.
Bake in the oven for about 20 minutes, until a toothpick inserted into the center comes out clean. Let cool and cut into nine squares!
MAKES 9 SERVINGS